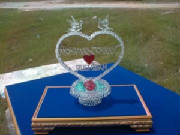 U can order one specially for your sweetheart. some customers like to have names in the heart, price starts at RM89 for a medium size heart, that would be about 10 inches high. Names and alphabets are extra.
Anda boleh tempah satu khas untuk awek/makwe/mambang yang special.
The height of this special order heart is about 10 to 11 inches.
Tinggi lakaran kaca ini ialah antara 10 dan 11 inci.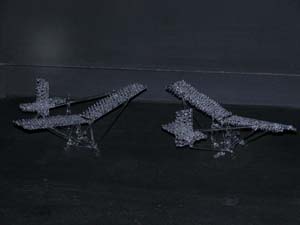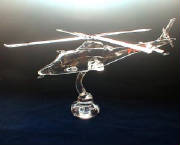 This chopper is specially made for a retiring Army General, courtesy of his officers.
Heli ni di tempah oleh pegawai tentera untuk General yang nak bersara.
Interested? it will only set u back a grand or 2.
Sian gak kat pegawai2 tentera, kena kuar duit sendiri nak bagi hadiah kat jenderal, tapi lagi kesian kat aku, pasal kena bagi diskaun, heheh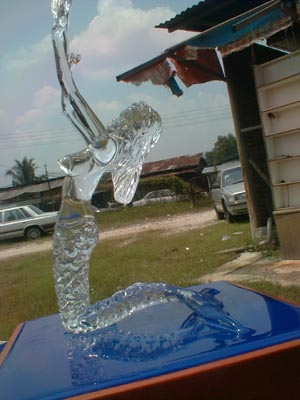 This mermaid was made for the chairman of Public Bank.
Ikan duyung ini di tempah untuk Pengerusi Public Bank.
This one was sold for about UsD500
Heard that the good Tan Sri is a sporting guy.

me in front of our dealer'soutlet at Genting Highland, wish its my own
di depan kiosk dealer di genting highland
we do demonstrations and accept special orders here for custom made designs.
kami membuat demonstrasi membuat krafkaca dan terima tempahan khas untuk corak tersendiri.